2020 Bryce Canyon & Escalante Slot Canyons Photography Workshop

NEW 6 Day workshop: November 5-10, 2020

Tropic, Utah

Registration Fee: $850

Cabin Fever discount - pay a deposit by Friday, April 3rd to get 15% Off registration fees.
To reserve your slot, Click Here to pay the $250 Deposit to reserve your place (limited to 8 photographers).
Housing options - TBA

Explore the wondrous hoodoos of Bryce Canyon and the unique slot canyons of Grand Staircase-Escalante National Monument on this 6 day photo workshop in Southern Utah, home to some of the best light for landscape photography in the world.

Pending weather, we will spend at least 2 days in Bryce Canyon National Park, 2 days in Grand Staircase-Escalante National Monuments, and the balance of time in other unique red rocks locations.
Subjects will include, but not be limited to: Unique rock formations, natural arches, slot canyons, canyon rim vistas, and night photography in internationally recognized dark skies parks. We will end the workshop with a group slide show and critique.
About the Photographer:
Colin is an award-wining photographer who has spent the past decade exploring the red rock Canyonlands of Southern Utah. As a part time resident of Moab since 2011, he has spent several weeks a year exploring the photographic riches in and around Southern Utah in every season. He is a certified photography travel guide in Arches, Canyonlands & Bryce national parks, as well as Bears Ears & Grand Staircase-Escalante National Monuments.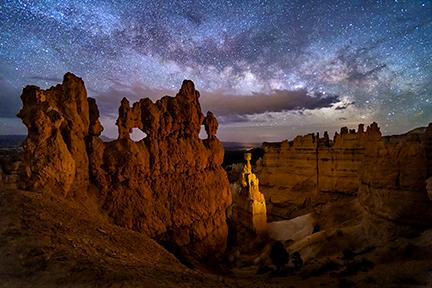 Field lessons will include tips and techniques for:
How to make your red rock images pop
How to capture good images in challenging lighting conditions
How to analyze a scene for compositional options
Using filters to improve artistic results
How to photograph slot canyons
How to capture the Milky Way in night photography

Indoor sessions will be spent viewing and critiquing participants' images. In addition, presentations will include:
Photographic techniques for shooting the red rock sandstone of the Colorado Plateau
HDR (High Dynamic Range) photography
Shooting and Stitching panoramic images
Adobe Lightroom workflow for getting the most from your images
Creating great black and white images from digital color captures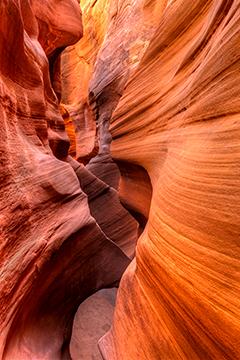 Skills Needed
All skill levels are welcome. Participants who have a basic understanding of digital workflow and knowledge or exposure to Adobe Photoshop or Lightroom will get the most from this workshop.
Other Considerations
Though locations visited during this workshop are readily accessible, the hilly terrain requires some moderate hiking (typically 2-5 miles round trip). Participants MUST BE IN GOOD PHYSICAL SHAPE and able to climb and descend moderate to steep inclines. They should wear sturdy boots and use caution on slippery and rocky slopes. Keep in mind that the elevation in Escalante is 5-6000', and Bryce Canyon is 8-9,000' above sea level.

Group Size: The workshop will be limited to 8 photographers
Dates and Times
Workshop begins Thursday afternoon, Nov 5, and ends Tuesday, Nov 10 at Noon.
Where to Meet
Participants will gather and be based at a vacation rental property in Tropic, Utah. to be announced. Directions and details will be sent well in advance of the workshop.
Registration Fees:

Full Six Day workshop:
$850
10% Discount for workshop and Rock Light Photo tour alumni

Cabin Fever discount - pay a deposit by Friday, April 3rd to get 15% Off registration fees.
Housing options will be available - TBA.

Prices do not include applicable sales & room taxes

To Book: CLICK HERE(then click 'add to cart' to select workshop length and housing options to reserve your slot)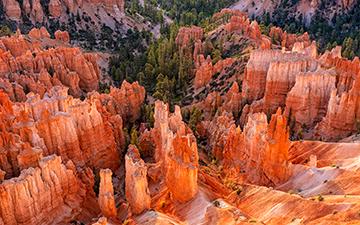 Meals
Meals are the responsibility of the participant and their cost is not included in the registration fee. We will work with the group to organize meal times and locations. Fully stocked kitchens are available at each rental house, and we will likely plan to eat at least one meal per day there.
Lodging
There will be a limited number of housing options at our home base vacation rental property in Tropic, Utah - to be announced. Directions and details will be sent well in advance of the workshop.

Park Admissions
All national parks admissions are Included in the registration fee. Colin is a certified and insured tour operator in both Arches & Canyonlands National parks.
Airfare & Local Transportation
Airfare and local transportation is NOT included. There is not much in the way of public transportation in the area, and the closest major airports are about 4 hours away in Salt Lake City(SLC) or Las Vegas, NV. Rental cars are generally required for those getting around, although we will try to organize ride shares as much as possible, and we will carpool as much as possible, to keep both our carbon footprint and parking space as minimal as possible.

Program Schedule:
Rather than adhering to a set itinerary, we will stay flexible so that we optimize our time in the field, giving you the best chances to capture great images based on weather and lighting conditions. For the Bryce Canyon part of the workshop, we plan to photograph golden hour at sunrise and sunset each day, with time during the day for additional shooting locations, instructional sessions, and down time. The slot canyons in the Escalante area are best photographed during the day, and involve more hiking.

Thursday
Participants arrive in Moab. Kick-off dinner and opening presentation with a brief instructional session on the plan for the week, and introduction to the area.
Friday thru Monday
Specific locations will be determined by weather conditions.

Tuesday
Morning field trip followed by breakfast. Group critiquing session, slide show and workshop wrap-up.
(Schedule may vary considerably depending on weather and other factors)
To reserve your spot,
Click Here
(then click 'add to cart' to pay your $250 deposit via Paypal or credit card)