Coastal California Redwoods
6 day Photo Workshop: June 14-19, 2022
Registration Fee: $995

To reserve your spot by paying your reservation fee here:
Click Here
then click add to cart.
Limited housing options available
---
Forest bathe in old growth redwood forests, hike through fern canyons and along beautiful rivers, explore rocky coasts and tide pools with almost daily fog, and search for Ewoks among the ferns and rhododendron.

Whether you've visited a Coastal Redwood forest before or not, you'll be humbled by the sense of majestic quiet of these special, ancient ecosystems. The air is imbued with scents which cannot be bottled, and it's impossible to describe the cathedral-like experience of walking among these vast canopies in person. Try to capture the variety of greens, light and shadows, and the vastness of these incredibly diverse forests and tide pools.
We will spend 5 ½ days exploring Redwoods National Park and three associated California state parks (Prairie Creek, Del Norte Coast and Jedediah Smith Redwoods State Parks) from our home base on the coast in Crescent City, California, near the Oregon border. These parks have been untouched by recent wildfires, and in fact experienced almost no smoke this past summer due to prevailing offshore breezes and the coastal fog that provide 50% of the moisture to the redwoods!
We will visit a variety of great locations in groves of giant trees on rocky coasts, combined with classroom work to better your photographic craft, including time to process and critique your images. We will shoot early mornings and sunsets as weather allows, with a few hours each day dedicated to classroom instruction and image processing. We will end the workshop on Friday with a group slide show and critique.
---
About the Photographer: Colin is a professional photographer and licensed tour guide in Arches, Canyonlands, Bryce Canyon & Rocky Mountain National Parks, and currently resides in Longmont, Colorado.

Field lessons will include tips and techniques for:
How to capture good images in challenging lighting conditions
How to analyze a scene for compositional options
Working with a range of lenses for a range of compositions
Using filters to improve artistic results
Indoor sessions will be spent viewing and critiquing participants' images. In addition, Colin will give indoor instructional presentations on:
Forest & coastal photography techniques
Adobe Lightroom workflow for getting the most from your images
How to shoot and stitch together panoramic images
Skills Needed:
All skill levels are welcome. Participants who have a basic understanding of digital workflow and knowledge or exposure to Adobe Photoshop or Lightroom will get the most from this workshop.
Other Considerations
This workshop will involve 2-4 miles of hiking per day at close to sea level. Participants MUST be in GOOD PHYSICAL SHAPE.

COVID Policy: New for 2022, I am requiring all participants to be fully vaccinated against Covid-19 (a booster is suggested but not required), or present evidence of a negative Covid-19 test no less than 72 hours before the workshop.
Group Size: The workshop will be limited to 8 photographers
Registration Fee: $995

CLICK HERE
to reserve and pay your registration fee
Limited housing options available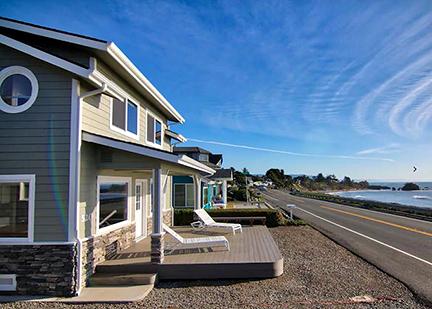 Dates and Times

Workshop begins Tuesday, June 14 at 5:00 pm and ends Sunday, June 19 at 11am.
Where to Meet
Participants will gather at a vacation rental property in Crescent City, California which will be our base of operations for the week.

Transportation
The closest decent sized airports are Redwoods Airport in Eureka/Arcata (ACV) to the south, or Medford, OR (MFR) to the East (both have nonstop flights from Denver on United)

A rental car is recommended, as the drive from the airports is a couple of hours, and restaurants and markets will not be in walking distance for the most part. If you wish to save on rental cars, please let me know, and I can try to pair you up with others for rides from the airport, etc.

We will carpool to locations as much as possible (as long as everyone is comfortable sharing rides with other fully vaccinated folks). Some locations are on some unpaved roads, so hopefully we'll have a couple of AWD/4WD high clearance SUVs for those days.

Lodging
Lodging is the responsibility of the participant and is not included in the registration fee. A limited number of bedrooms will be available at the Crescent City vacation rental house that will be our base of operations for the workshop. (Two private bedrooms with King beds, two with queens & one with two twin beds - rates TBD). Details to follow.
Want to bring along your non-photographer spouse/partner-in-crime? I generally charge 50% of the registration fee for hangers-on who want to come to some locations, group meals, etc, and we will have double occupancy rates or a couple of the rooms (TBD).

Meals

Meals are the responsibility of the participant and their cost is
not
included in the registration fee. We will work with the group to organize meal times and locations. There is also a full kitchen in the rental house.
---
Program Schedule:
Rather than adhering to a set itinerary, we will stay flexible so that we optimize our time in the field, giving you the best chances to capture great images based on weather and lighting conditions. We plan to photograph throughout the day.

Tuesday
Participants arrive in Crescent City, CA. Kick-off dinner and opening presentation on the local area and the lay of the land. We will likely shoot sunset from a nearby beach.

Wednesday thru Friday

Early morning field trip followed by lunch (or hike with lunch
on longer field trips). Break for processing and/or instructional session. Afternoon/evening field trip.

Saturday
Morning brunch and group slide show and image critique.
(Schedule may vary considerably depending on weather and other factors)
The workshop will happen rain or shine (or fog!)
Registration Fee: $995
To Reserve your slot (8 max),
CLICK HERE
(then click add to cart to pay your registration fee)
---
Workshop Cancellation Policy
More than 120 days in advance - full deposit will be returned
60-120 days in advance - deposit can be used for a later workshop
30-60 days in advance - 50% refund. If we manage to fill all the workshop slots, then the remaining 50% can be applied toward future workshops
COVID-19 - if a COVID-19 related travel ban or quarantine directly affect you, or if the workshop is cancelled due to travel restrictions - 100% refund (or apply 50% toward a future workshop with a 10% discount)