San Juan Mountains Fall Color Photo Workshop

5 Day Photo workshop: Oct 2-6, 2023

Ouray, Colorado - SOLD OUT

I still have room available on my other Colorado Fall Color workshop in Rocky Mountain National Park Sept 24-28.
Learn More.
---
Spend 5 days in a variety of locations around the beautiful and rugged San Juan Mountains of Colorado during a photographer's favorite time of the year - Autumn!
Based in picturesque Ouray, Colorado, we will visit a variety of great locations in the San Juan mountains for fall foliage, combined with classroom work to better your photographic craft, including time to process and critique your images. We will shoot sunrises and sunsets as weather allows, with a few hours each day dedicated to classroom instruction and image processing. Locations will include, but not limited to: scenic highways, forest streams, aspen groves, mountain lakes and epic mountain overlooks. Locations will include areas near Silverton, Ouray, Ridgway & Telluride, Colorado. We will end the workshop on Friday with a group slide show and critique.
About the Photographer: Colin is a professional photographer and licensed tour guide in Arches, Canyonlands, Bryce Canyon & Rocky Mountain National Parks, and currently resides in Longmont, Colorado. He has led several fall foliage workshops in Upstate New York & Colorado over the years.
Field lessons will include tips and techniques for:
How to make your foliage images pop
How to capture good images in challenging lighting conditions
How to analyze a scene for compositional options
Working with a range of lenses for a range of compositions
Using filters to improve artistic results
Indoor sessions will be spent viewing and critiquing participants' images. In addition, Colin will give indoor instructional presentations on:
Fall foliage photography techniques
Adobe Lightroom workflow for getting the most from your images
How to shoot and stitch together panoramic images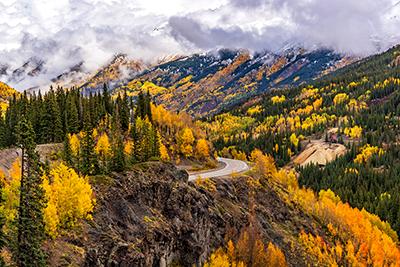 Skills Needed
All skill levels are welcome. Participants who have a basic understanding of digital workflow and knowledge or exposure to Adobe Photoshop or Lightroom will get the most from this workshop.
Other Considerations
NOTE: This workshop will involve 1-4 miles of hiking per day at 8,000-11,000′ elevations. Participants MUST be in GOOD PHYSICAL SHAPE. If you are coming from sea level, plan to arrive a day or two early to acclimatize yourself to the high elevations. The rental house is available one day in advance of the workshop.
Group Size: The workshop will be limited to 8 photographers

Registration Fee: $950 (Does not include housing)
SOLD OUT!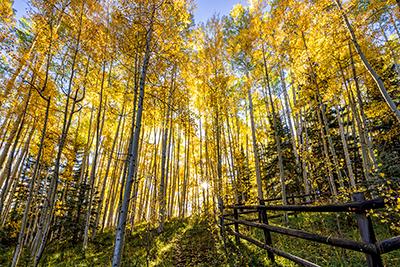 Dates and Times
Workshop begins Monday, Oct 2 at 4pm and ends Friday, Oct 6 at noon.
Meals
Meals are the responsibility of the participant and their cost is not included in the registration fee. We will work with the group to organize meal times and locations.
Lodging
Lodging is the responsibility of the participant and is not included in the registration fee. A limited number of lodging options will be available at the 4BR home base property in Ouray, Colorado beginning on Sunday, Oct 1. (if you want to arrive a day early to get acclimated to the elevation, or enjoy the Ouray Hot Springs only a block away!).
Getting here:
There are airports in Montrose (45 min), Telluride (1 hour), or Grand Junction (2 hours). For transportation to/from Ouray, plan on renting a vehicle. There are some rough roads in the area, so an SUV with 4WD/AWD and high clearance is a good idea if you plan to explore the are before or after the workshop. We will carpool to locations if you don't have access to a vehicle described above.
Program Schedule:
Rather than adhering to a set itinerary, we will stay flexible so that we optimize our time in the field, giving you the best chances to capture great images based on weather and lighting conditions, and fall color. We plan to photograph on and off throughout the day, with classroom session interspersed as time allows.
Monday
Participants arrive in Ouray. Kick-off dinner and opening presentation and instructional session on Colin's secrets for capturing fall color. Travel to nearby sunset location.
Tuesday thru Thursday
Early morning field trip followed by brunch. Break for processing and instructional session. Afternoon field trip.
Friday
Morning field trip followed by breakfast. Group critiquing session, slide show and workshop wrap-up.
(Schedule may vary considerably depending on weather and other factors. NOTE: We will go where the color is best.)
What to bring:
A digital or film camera capable of manual exposure settings. Due to the short time frame of the workshop, people with digital cameras, especially digital SLR or mirrorless cameras, will get the most from the workshop.
Plan to bring all of your lenses, from wide angle to telephoto, as the variety of locations will put all your gear to work!
A sturdy tripod is essential for capturing the long exposures necessary to capture waterfalls & streams, as well as at sunrise/set.
All your filters. A circular polarizer filter, while not required, can be a useful tool for controlling glare and reflections on leaves and water. A graduated neutral density filter can be useful at sunrise or sunset.
Hiking boots or other sturdy shoes
Rain gear and warm layers – Colorado mountain weather can be finicky, and temps can be chilly at sunrise or sunset, especially at higher altitudes.
A headlamp or flashlight, in case we need to hike back after sunset.
Your own method of transportation to get around town. We will carpool to locations as possible.
A laptop computer loaded with Adobe Lightroom Classic, to best take advantage of the Lightroom workflow sessions, or whatever software you use to process images.
To reserve your spot,
Click Here
(then click "add to cart" to pay your $250 deposit)
---
Workshop Cancellation Policy
More than 120 days in advance - full deposit will be returned
60-120 days in advance - deposit can be used for a later workshop
30-60 days in advance - 50% refund. If we manage to fill all the workshop slots, then the remaining 50% can be applied toward future workshops
COVID-19 - if a COVID-19 related travel ban or quarantine directly affect you, or if the workshop is cancelled due to travel restrictions - 100% refund (or apply 50% toward a future workshop with a 10% discount)